Active Adult Programs
Wuji Wellness currently teaches classes at several adult living communities.
We provide on-site workshops, seminars, and regular classes on stretching, meditation, Tai Chi and Chi Kung, designed especially for Active Adults.
Come join us at one of our regular classes!
Las Palmas
215 North Power Rd
Mesa, AZ  85205
Friday 9am to 10am
Palmas Del Sol
6209 East McKellips Rd
Mesa, AZ  85215
Tuesday 10:30 AM to 11:30 AM
Palmas Del Sol East
3400 South Ironwood Dr
Apache Junction, AZ  85120
Friday 1pm to 2pm

SilverRidge
8265 E. Southern Avenue
Mesa, Arizona 85209
Friday 10 AM to 11 AM (Tai Chi)
Friday 11 AM to 12 PM(Qi Gong)

Valle Del Oro
1452 S. Ellsworth Road
Mesa AZ 85209
Tuesday 1 PM to 2 PM
Our lessons are dynamic, easy to remember, and fun to learn, addressing the unique needs of each class. The benefits include but are not limited to

Improved stress and pain management
Improved mental alertness
Improved energy
Improved sleep quality
Improved blood pressure
Improved bone density
These are proven exercises that have been used for thousands of years to stay in shape or regain more ideal health.
The Mayo Clinic and Harvard Medical School conducted research that supports this statement. Celebrities and famous doctors also endorse Tai Chi and Chi Kung.
Tai Chi & Chi Kung
Tai Chi & Chi Kung are slow, continuous, mindful movements that lubricate your joints and tendons, normalize your heart rate and circulation, improve balance, and increase your life force (Chi, Ki, or Mana). Their root is martial arts.


Stretching
Stretching is important in any physical activities but it is equally important to get energy moving after long periods in repetitive task or sitting at a desk. Si Gung Zhu taught Quang some of the best stretches. Many students introduced to it cannot stop talking about how powerfully and quickly it works to lessen wrist, hand, arm, and shoulder pain. It is great for office aches, tennis elbow, and other upper body discomforts.

Meditation
The benefits of meditation are no longer a mystery. It is talked about, researched and approved by the Mayo Clinic, Harvard Medical School and other highly recognized medical professionals to help reduce stress and health problems caused by stress.

The Meditation taught and practice by Wuji Wellness is Taoist in foundation. It is more physical than most meditations because you are learning to control your breathing, your body, and your mind. It is a deeper practice physically and mentally for spiritual, energetic, mental and physical cultivation.

There are many level of meditation, but the core is learning how to breath correctly, how to see the world with a quiet mind, and how to move energy within our body and with our mind.


Interested in bringing the benefits of Wuji Wellness to your adult community? Contact us for a free consultation and demonstration.

WujiWellness.com

2051 West Warner Rd Suite 22
Chandler, Arizona 85224

(602) 688-9307
wujiwellness@gmail.com

Tai Chi can decrease blood pressure, reduce anxiety, improve flexibility and enhance your overall wellness
"I never realized how important breathing is in helping to manage stress and pain. Thanks Quang"
—Kathy A.
"I can't believe that I am retaining what Quang is showing us. Wow."
—Mary O.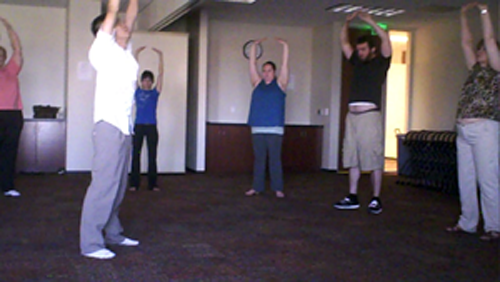 "I never realized how important breathing is in helping to manage stress and pain. Thanks Quang"
—Kathy A.